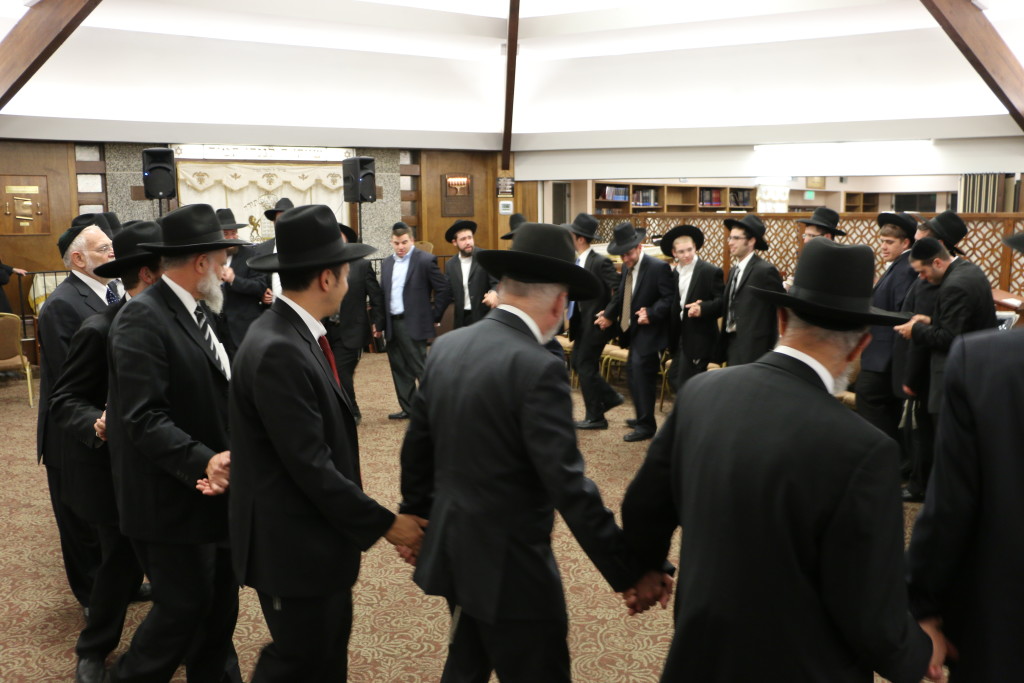 Parsha Delight and Sefer Matamei Zera Abraham
Simple but powerful. See the question on the Parsha printed in the weekly newsletter. Offer an acceptable answer to the Rov at the kiddush and receive a chocolate! Each week the answers for the previous week's Parsha Delight question are printed in the newsletter. At the end of the year a compilation of the questions and answers is published. This program is for ages 5-105. Click
HERE
 to view our newly published Sefer Matamei Zera Avraham! 
Chanukah Mesiba
Take some latkes, a Siyum Masechta, some children's activities and dancing for all, mix in a few doughnuts, and you have a thoroughly enjoyable Mesiba which no one wants to miss.
Growth and Sharing (Inter-Shul) Initiative
Boruch Hashem, Denver is blessed with wonderful Rabbonim! This initiative encourages sharing and achdus, by facilitating Shabbos visits of the Rabbonim to each other's respective Shuls.
Ladies' Auxiliary Yom Tov Cook-a-Thon
Enjoy the convenience of spectacular delicious food prepared, and support the noble work of our Ladies' Auxiliary. Recently, this campaign has translated into several well-needed improvements to our Shul building. Bon appétit and yasher koach!
Simchas Bais HaShoeva
Let your inner Simchas Yom-Tov come to the surface. Food and lively dancing!
The Lag b'Omer Event
Scrumptious food. Siyumei Masechta. Denver Boys Choir. Divrei Torah by a guest speaker. Storytelling and a fire truck for the children. Then a bonfire on the Shul field with the customary niggunim. Sounds good.
Police Safety Awareness Events
By forging good-friendships with our police department and government officials, we can work together to make our neighborhood better. We are fortunate to observe the effects of this excellent relationship as we continue to see our streets becoming safe and more pleasant.
Shiras HaYam Tisch
After the Yom Tov Seuda on the night of Shvi'i Shel Pesach, come back to the Shul with the whole family and experience an inspiration. After niggunim and uplifting divrei Torah, sing the Oz Yoshir with the traditional stirring and elevating tune, according to Minhag Eretz Yisrael.
Chol HaMoed Breakfast and Learn
There is no better way to start a day of Chol HaMoed  than with a refreshing delicious breakfast (on Succos, in our massive front porch succah), followed by a just as delicious Seder Iyun and in-depth Shiur.
Young Women's Melava Malkas
A well deserved night-out for the young women from all over the city, to socialize and be creative in an elegant and feminine setting with delicious menus. Hosted several times each winter at the home of Rebbetzin Steinberg.
Purim Talent Show and Shpiel
Is there anyone who would not want to show their best talent and compete for the first prize: a phenomenal two-foot hamantasch?! The ZA Talent Show and Purim Shpiel each Leil Purim will make you laugh no matter what.